SKF profile rail carriage LLTHC R
Slim-line model | extended height | 15 - 45 mm
The SKF profile rail carriage LLTHC R is a slim-line model carriage. The LLTHC R is manufactured according to DIN 645-1 and therefore interchangeable in terms of construction within all DIN-complaint brands. Because of the X-arrangement the LLTHC R is more self-aligning than most other profile rail carriages. This also contributes in the amount of friction being created between carriage and rail. The integrated lubricant reservoirs constantly re-lubricate the circulating balls to decrease maintenance. The LLTHC R has and extended height to increase the space between the application and the rail. This makes the LLTHC R very suitable for some specific applications. You can choose from three different preload and accuracy classes. The LLTHC U is available in sizes between 15 and 45 mm.
If you are unsure which size or implementation is the most appropriate for you, the differences are written below. If you are still in doubt you can always contact us on +31 (0)85 – 0661258.
Preload and accuracy classes
Preload classes
To adjunct a profile rail guide to the specific demands of a given application, it is advisable to choose an appropriate preload. This will positively affect the operating behavior of the entire linear guidance system. Preload increases the stiffness of linear guides and thus reduces the deviation under load. You can choose between three different preload classes:
T0 – Zero preload: For extremely smooth-running rail guide systems with low friction and low external influences. This preload class is only available in P5 and P3 accuracy calsses.
T1 – Light preload: For precise rail guide systems with low external load and high requirements for overall stiffness
T2 – Medium preload: For precise rail guide systems with high external load and high requirements for overall stiffness. Also recommended for single-rail systems.
Accuracy classes
The Accuracy class define the maximum permissible tolerance range of rail system in terms of height, width and parallelism. This choice determines the positioning accuracy of the system within the application. There are three different accuracy classes available for each carriage:
P5 – standard: ± 100 µm height- and ± 40 µm width tolerance.
P3 – medium: ± 40 µm height- and ± 20 µm width tolerance.
P1 – heigh: ± 20 µm height- and ± 10 µm width tolerance.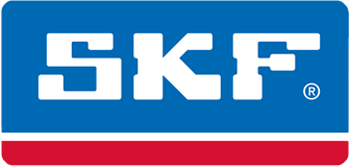 SKF
SKF is the worldwide leader in the field of bearing technology. This also includes the profile rails and profile rail carriages that SKF offers. SKF has been on the top of the mountain for years thanks to the exceptional quality of their bearings and profile rail guides. This quality and the maintenance friendly character can be found in the entire range of SKF. With the purchase of a SKF bearing you are sure to have bought top quality.